(I have silently corrected some typos). Wajihuddin then specifies the problem:
The Arabs usually "marry" the girls for short periods, sometimes just a single night. In fact, Wajihuddin reports, marriage and divorce formalities are often prepared at the same time, thereby expediting the process for all involved. Akhileshwari notes that "their girl children are available for as little as 5,000 rupees to satisfy the lust of doddering old Arab men." Five thousand rupees, by the way, equals just a bit over US$100.
An Indian television program recently reported on a show-casing of eight prospective brides, most of them minors, at which they were offered up to their Arab suitors. "It resembled a brothel. The girls were paraded before the Arab who would lift the girls' burqa, run his fingers through their hair, gaze at their figures and converse through an interpreter," recalls one of Nishat's assistants.
Sunita Krishnan, head of an anti human-trafficking organization, Prajwala, makes the only too-obvious point that girl children are not valued. "If a girl child is sold or her life ruined, it is not a national loss, that's why this is a non-issue, both for community and to society." With the exception of Maulana Hameeduddin Aqil, the head of Millat-e-Islamia (a
local organization
, apparently not connected the
notorious Pakistani terrorist group
), who speaks out against these sham marriages ("They are committing a sin. It's not
nikaah
, it's prostitution by another name"), the Islamic authorities in India are almost all silent about this travesty of the Shari'a.
For their part, Muslim politicians in the city of Hyderabad apparently could care less. "It's not on the poll agenda of any politician," says Mazhar Hussain, director of a social welfare organization, the Confederation of Voluntary Associations. The Majlis-e-Ittihadul Muslameen, the main party of Hyderabad's Muslims, is blissfully unconcerned: "You cannot deny that the fortunes of many families have changed through such marriages," MIM's president, Sultan Salahuddin Owaisi, cheerfully points out.


Comments:
(1) Ironically, the girls thus proffered appear all to be Muslim â€" no Hindus or others need apply.
(2) The behavior of Arabs in India in some way parallels that of Japanese and Westerners in Thailand, with the notable difference that the Indian case involves marriage, an emphasis on virginity, and local authorities seemingly pleased with providing their minor girls for sex tourism.
(3) Arabian sex tourism is not exclusive to India but also takes place in other poor countries.
(4) This trade in persons is merely one dimension of a problem that prevails through Saudi Arabia and the Gulf states (for another dimension, see "
Saudis Import Slaves to America
").
(5) Concubinage, forced labor, indentured servitude, slavery â€" these deep problems are nowhere near being addressed in the Gulf region, much less solved. Indeed, one
prominent Saudi theologian
has gone so far as to state that "Slavery is a part of Islam" and whoever says it should be abolished "is an infidel." So long as such attitudes can be articulated publicly, without censure, abuses are certain to continue.
(6) The hypocrisy of this trade is perhaps its vilest aspect. Better prostitution, frankly acknowledged, than religiously-sanctioned fake marriages, for the former is understood to be a vice while the latter parades as a virtue.
(7) Wajihuddin compares the Arabian men to "medieval monarchs" and the analogy is apt. These transactions, involving Muslim minors and conducted under the auspices of Islamic law, point yet again to the dominance of premodern ways in the Muslim world and the urgent need to modernize the Islamic religion.
_________
In August last year, two minor girls were married to a middle-aged Arab from the UAE in one sitting by a cleric. However, the girls escaped from his clutches. The Arab, Shaik Al Rahama Ismail Mirza Abdul Jabbar fled the country. Police had then arrested the cleric and the broker and claimed that the marriage racket had international ramifications.
The same article also provides a host of other examples, including the title case involving a 27-year-old Indian bride bought for US$225 and a variety of other travesties.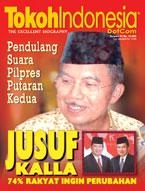 Jusuf Kalla, vice-president of Indonesia.
June 29, 2006 update
: One hardly knows whether to cry or laugh on learning the comments of Indonesia's Vice President
Jusuf Kalla
at a travel industry seminar on attracting more Arab visitors to Indonesia.
Kalla noted that many Arab tourists currently traveled to Puncak - a hill town near Jakarta notorious for prostitution, where signs in Arabic at restaurants and hotels testify to the its popularity with Arabs - to enter into short-term marriage contracts with Indonesian women. "We need different kinds of marketing campaigns, more targeted. At the moment most Arabs go to Puncak. If they go there looking for widows or divorcees that is not our business, it is not a problem. So what if the man goes home, the lady gets a small house, that is good isn't it?"
Aug. 16, 2008 update
: Summer "
tourist marriages
" are emerging as a pattern during the summer months, when Saudis travel to Indonesia to escape the heat and some men marry local women only to abandon them in the fall. The marriages are facilitated by matchmakers with albums of pictures of potential wives, which customers can select for SR2000 or US$530.
In one instance, reports the Saudi Gazette, relying on information in Al-Watan from Faraj Al-Dawseri of the Saudi Embassy, four young Saudis married four Indonesian girls in the town of Bandon but then
alleged the marriages were unofficial because they did not acquire a permit from the Ministry of the Interior in Saudi Arabia and instead the marriages were officiated by a mosque's Imam in the presence of the girls' father. They alleged they did not deceive their father-in-law because they declared the marriages were only being conducted to "protect them from temptation." They also said they were being cautious not to father children with the women because the marriages were strictly "tourist marriages."
The result of such marriages, according to Dawseri, are thousands of children in Indonesia abandoned by their Saudi fathers. The embassy facilitates contact between the Saudis and their abandoned wives and children; often, Indonesian families settle for payments of SR2,000.
Apr. 18, 2009 update
: According to
Khaled Al-Arrak
, director of Saudi affairs at the Saudi Embassy in Jakarta,
misyar (temporary) marriages
between Saudi sex tourists and Indonesian women are commonplace. "Some poor Indonesians marry off their girls to Saudis hoping it would put an end to their poverty and miseries." In fact, these are temporary marriages that end within days, often leaving the women with unwanted children. The Saudi Embassy in Jakarta received 82 calls last year regarding children of Saudis who had married Indonesian women and then abandoned them. So far this year, it has received 18 such calls.
The artcle P.K. Abdul Ghafour in the Arab News tells about Aysha Noor, 22, an Indonesian woman from Sikka Bhumi, 160 km east of Jakarta.
She said that her parents married her to a young Saudi man when she was 16, thinking it would be a blessing for the family and end their poverty. "We in Indonesia consider people of Makkah and Madinah as blessed ones. The man gave me a dowry of six million Indonesian rupiahs [US$540]. The dowry helped us to solve some of our economic problems. My family did not know that the man was intending to have a temporary marriage." She adds: "After a few days he paid us the remaining amount of three million rupiahs [US$270] and left the country." Noor said she later had a similar marriage with another Saudi before finding a job at a nightclub as a singer and dancer.
The consul for information at the Indonesian Consulate in Jeddah, S.P. Dharmakirty, confirmed the problem of temporary marriages involving Saudi men and Indonesian women. "Indonesian authorities have taken appropriate measures to curb this practice," adding that some people involved in such illegal marriages have been detained.